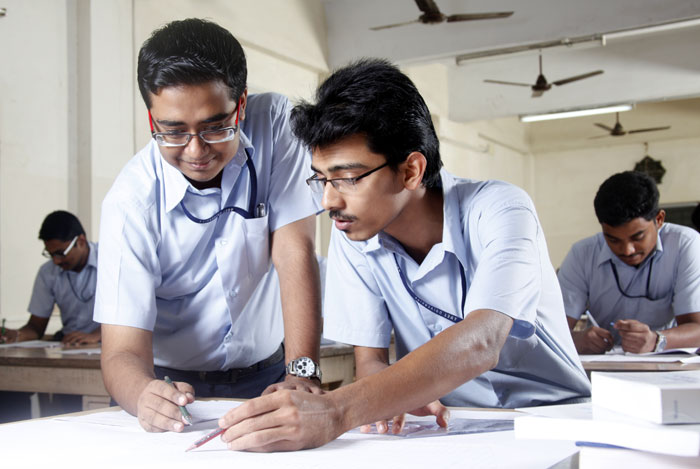 Duration: 4 years (8 semesters)

Eligibility: A pass in plus-two (12th standard) or its equivalent, with minimum 50% Marks for OC and 45% for others aggregate in Maths, Physics and Chemistry Group from any recognized Board.

Sanctioned Strength: 30

Mode of Selection: Entrance Examination / Personal interview


Twinning Programme
Students of B.E. Naval Architecture after completion of first three years study at AMET can opt for the following twinning programme offered in collaboration with University of Strathclyde Glasgow, United Kingdom
Lateral Entry
Lateral Entry:
(i) Diploma Mechanical / Civil Engineering / Metallurgy / Production Engineering / Naval Architecture / Marine Engineering / Shipbuilding Students are eligible to be admitted in second year of the study.
(ii) B.Sc. Mathematics / Physics graduates are eligible to be admitted in second year of the study.

Eligibility: A pass in plus-two (12th standard) or its equivalent, with minimum 50% Marks for OC and 45% for others aggregate in Maths, Physics and Chemistry Group from any recognized Board.

Mode of Selection Admission test / Personal interview

Lateral Entry Subject to availability

Boys and Girls are eligible to apply.


Career Opportunities
Naval Architect
Safety Engineer
Design and Production Engineer
Dock Master
Ship Surveyor
Click Here to Know About Our Successful Alumni

Placement Opportunities
Singapore, Qatar, Dubai, Sharjah, Bahrain, UK, USA, China, Germany, Indian Companies (Mumbai, Gujarat, Cochin, Chennai, Goa, Kolkata, Mangalore).

Research and Development
Scientist at NSTL, NPOL, DRDO, ONGC, EIL, etc.


Programme Educational Objectives (PEO)
PEO1: Build their career as a successful and distinguished Naval Architect or Offshore Engineer.

PEO 2: Pursue higher education and research in Marine sector, other engineering streams and specializations

PEO3: Acquire innovative and creative thinking skills to augment their professional growth

PEO 4: Develop high moral values, positive attitude and societal responsibilities
Program Outcomes (PO)
PO 1: Apply knowledge of mathematics, science and engineering in their specialization involving complex engineering problems.

PO 2: Analyze a problem, identify, formulate and solve engineering problems using basic fundamental principles of mathematics and science.

PO 3: Design a system component or process to meet the desired needs and standards within realistic constraints such as public health and safety, social and environmental considerations.

PO 4: Design and conduct experiments, as well as do research, analyze and interpret data and give clear solutions.

PO 5: Use and learn the limitations involved in recent techniques, skills and modern engineering tools necessary for engineering practice.

PO 6: Assess the local and global impact of engineering solutions on individuals, organization and society and the consequent responsibilities relevant to their professional engineering practice.

PO 7: Understand the impact of the professional engineering solutions in societal and environmental contexts and demonstrate the knowledge of, and need for sustainable development.

PO 8: Understand the professional and ethical responsibilities and norms of engineering practices.

PO 9: Work with multi-disciplinary teams, involve in team activities and accomplish a common goal.

PO 10: Communicate effectively with engineering community for presentation, documentation of reports adopting the design standards.

PO 11: Understand engineering and management principles and apply these to one's own work, as a member and leader in a team, to manage projects and in multi-disciplinary environments.

PO 12: Meet contemporary issues and create advance technologies and will be engaged to lifelong learning in the broadest scale.
Programme Specific Objectives (PSOs)
PSO 1: Develop innovative design technologies to augment the ship building capability using latest knowledge regarding design and material for meeting the challenges offered by the marine industries

PSO 2: The qualified graduate engineers able to role-play in the field of naval architecture and offshore engineering to meet the man power requirement required for ship building and ship prepare industry for building and maintenance of merchant and naval ship of the country and also for the ship under other national flags

PSO 3: Achieve producing quality engineers in the field of naval architecture and offshore engineering so that they can further be involved in high end research works undertaken by the government (central and state) and various organization