with Minor Degree in Big Data Analytics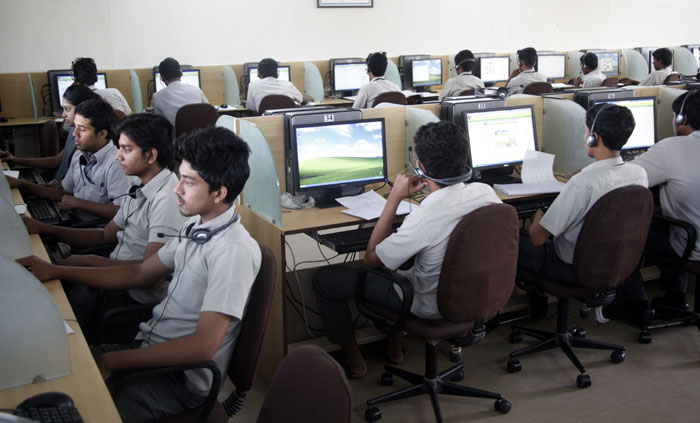 B.Com (Honors) Computer Application programme is designed to enable and empower the students to acquire knowledge, abilities and skill needed to satisfy the business expectations.

The Students will be exposed to the world of technology and digitalization.

As being mandated by the Government of India, this programme is designed to create entrepreneurial mindset with skills among the students and to promote understanding of the issues related to business world & the economy as a whole.

Duration: 3 years (6 semesters)

Eligibility: Pass in Higher Secondary with 50% marks.

Mode of Selection: AMET Common Entrance Test and Personal Interview.

Age Limit: Below 25 years at the time of commencement.

Boys and Girls are eligible to apply.
Programme Educational Objectives (PEO)
PEO1. Become successful Graduates who are competent, innovative and productive in addressing the needs of the Industry, and pursue higher education and research.
PEO2. Grow professionally with their knowledge and proficient skills throughout their career.
PEO3. Demonstrate high standard of ethical conduct, positive attitude and societal responsibilities.

Program Objectives (PO's)
PO1. Critical Thinking: Understanding the concepts of Finance, Marketing, International Trade and Computer Application, infer the advantages of these concepts through critical thinking
PO2. Effective Communication: To express their views through effective communication and gain the ability to connect to people
PO3. Apply Reasoning: Apply the reasoning power gained through contextual knowledge to asses societal and environmental contexts, and demonstrate the knowledge of and need for sustainable development
PO4. Professional Ethics: Understand the impact of the professional ethics and responsibilities and norms of the business practices and apply ethical principles in business and life
PO5. Environment and Sustailability: Apply the knowledge through sustainable development in any environment
PO6. Effective functioning: Function effectively as an individual, and as a member or leader in diverse teams, and in multidisciplinary setting
PO7. Life Long Learning Self Learning: Recognize the need for, and have the preparation and ability to engage in independent and life-long learning in the broadest context of environmental change.

Program Specific Objectives (PSOs)
PSO1. Understand the concepts of Accounting, Finance, Marketing, International Trade and Basic Computer Applications
PSO2. Analyse Marketing and financial concepts
PSO3. Determine the scope of employment in finance, Marketing and Basic Computer application
PSO4. Apply the concepts of Accounting, Finance, Marketing, International Trade and Basic Computer Applications