This committee has been constituted as per the UGC notification published in the Gazette on 23rd March 2013.
Management

Vice Chancellor
Registrar
Dean, Student Welfare

Heads of the Core Departments
Controlling Officers

Controller of Examination
Proctor
Director, Physical Education
Librarian
PRO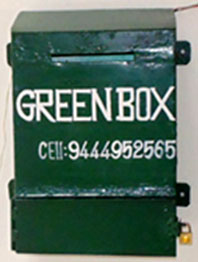 Grievance Redressal System
Under "Green Box System" students can very well put their letters of Grievances in the Green Box, which is available in the lounge of the University Entrance. Vice-Chancellor attends those grievances on daily basis and redresses the grievances of any nature.
Online Grievance Redressal System
University has also made the provision to receive and attend various grievances of students online through University website portal ametuniv.edugrievance.com. Students can register and login using their email ID /mobile number and post their grievance which will be addressed by the concerned Grievance Redressal Committee officials.
Registration Process:
Students can register their grievance through the website ametuniv.edugrievance.com
Click Students Icon.
Click "New User Registration".
Enter your details such as Name, Course, Batch, Mobile No., Email and click Register.
Once your registration is approved, you can post a grievance.
To Post a Grievance:
Use Email ID or Mobile Number to Login.
Click Post a Grievance to register your grievance.
Select the Grievance Type - If the grievance is department related, select your department name. If not, select the appropriate grievance type listed.
Enter the grievance subject with brief description. If there is any proof or documents, it can be attached.
Click Create to submit your grievance.
To view the Status of Grievance:
Students can view the status of grievance in My Grievances section.
To view the details of the action taken on the grievance, click the View button.
If the student is not satisfied with the reply, they can reopen the grievance and submit it with their queries again.
To reopen the grievance, click Reopen button and type your grievance and post it.
Online Grievances in UGC and AICTE Portal
Students can also submit their grievances in the UGC and AICTE Grievance portal at the following links UGC Grievance Portal Link https://ugc.ac.in/grievance
AICTE Grievance Portal Link https://centralgrievances.aicte-india.org/

Ombudsperson for Student Grievances
Dr. V. Thangaraj, Former Director and Head, Ramanujan Institute for Advanced Study in Mathematics, University of Madras, Chennai; Email – thangarajvenu@gmail.com